Jorge Luis Borges
Short Story Writer & Essayist Best Known for His Books 'Ficciones' & 'El Aleph'.
Birthdate: August 24, 1899
Birthplace: Buenos Aires, Argentina
Died: June 14, 1986
Jorge Luis Borges was an Argentine essayist, poet, short-story writer, and translator. An important figure in Spanish-language literature, Jorge Luis Borges' works have contributed immensely to fantasy and the philosophical literature genre. It is also said that his works, which incorporated themes like labyrinths, dreams, and mythology, marked the beginning of 20th-century Latin American literature's magic realist movement.
Alfonsina Storni
Argentine Poet and Playwright of the Modernist Period
Birthdate: May 29, 1892
Birthplace: Sala Capriasca, Switzerland
Died: October 25, 1938
Alfonsina Storni was an Argentine playwright and poet of the modernist period. She was one of the first women to find success in the Argentine literature and theater scene, which were dominated by men. Her literary works not only inspired her readers but also inspired other writers.
Alejandra Pizarnik
Birthdate: April 29, 1936
Birthplace: Avellaneda, Argentina
Died: September 25, 1972
Argentine poet Alejandra Pizarnik had initially focused on painting and had then worked for various publishing houses in Paris. She was best known for her poem collections, such as The Musical Hell, and prose works, such as The Bloody Countess. She unfortunately committed suicide at age 36.
José Hernandez
Journalist
Birthdate: November 10, 1834
Birthplace: Buenos Aires, Argentina
Died: October 21, 1886
Argentine poet José Hernández is best known for his long epic poem Martín Fierro. Having spent a part of his life in the pampas, he learned the ways and means of the gauchos and often described them in his works, such as The Gaucho Martin Fierro, a fine work of gaucho poetry.
Leopoldo Lugones
Argentine Poet, Essayist, Novelist and Playwright
Birthdate: June 13, 1874
Birthplace: Villa de María del Río Seco, Argentina
Died: February 18, 1938
A central figure in the history of Hispanic-American modernism, Leopoldo Lugones is remembered as much for his contributions towards the formation of modern Spanish poetry as for his profound insight into Argentinean history. A well-Known poet-playwright-novelist, literary and social critic, and cultural ambassador, he later involved himself with national and international politics, leaving a huge impact on the younger generation of writers.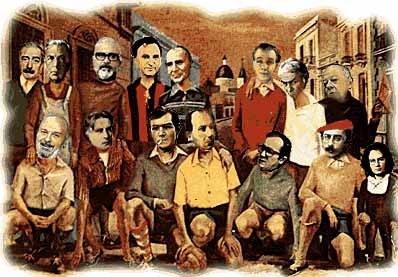 Juan Gelman
Birthdate: May 3, 1930
Birthplace: Buenos Aires, Argentina
Died: January 14, 2014
Argentine poet Juan Gelman was also a left-wing activist and later moved to Mexico, hounded by the military junta. He tragically also lost both his son and his daughter-in-law to the killings by the junta. His poems depicted the socio-political scenario in Argentina and even won him awards like the Cervantes Prize.
Esteban Echeverría
Argentina Author Who Played a Significant Role in the Development of Argentine Literature
Birthdate: September 2, 1805
Birthplace: Buenos Aires, Argentina
Died: January 19, 1851
Poet, author, and activist Esteban Echeverría is known as one of the most prominent figures of Romanticism in Latin American literature. He was also part of the group that launched the May Organization and joined the campaign to end the dictatorship of Juan Manuel de Rosas.
Oliverio Girondo
Birthdate: August 17, 1891
Birthplace: Buenos Aires, Argentina
Died: January 24, 1967
Born in Argentina and educated in France and England, Argentinian poet Oliverio Girondo traveled back and forth to Europe as a young man, exploring the continent, traveling to find the source of the Nile in Africa. Very soon, he started writing poems that displayed symbolism, an avant-garde imagery and metrical complexity, helping the Ultraism movement to settle down in Argentina.
Ricardo Guiraldes
Argentine Novelist and Poet Known for His Novel 'Don Segundo Sombra'
Birthdate: February 13, 1886
Birthplace: Buenos Aires, Argentina
Died: October 8, 1927
Ricardo Güiraldes was an Argentine poet and novelist. Widely regarded as one of the most prominent Argentine writers of his generation, Güiraldes went on to influence many young writers. He is best remembered for his novel Don Segundo Sombra.