Luckily, there are many ways to learn Spanish, but how to learn Spanish quickly? Okay, the first answer is: study Spanish every day. Learning Spanish is not like learning to ride a bicycle, it is a process that lasts a lifetime. So, from Wanderlust Spanish we want to show you various ways to learn Spanish in a fun, dynamic, and effective way.
How to learn Spanish with Netflix
México
It's a Mexican black comedy-drama television series created by Manolo Caro for Netflix. It depicts a dysfunctional upper-class Mexican family that owns a prestigious floristry shop and a struggling cabaret. It contains several LGBT+ main characters, with plots that look at homophobia and transphobia. Seen as satirizing the telenovela genre that it maintains elements of. It also subverts stereotypical presentations of race, class, sexuality, and morality in Mexico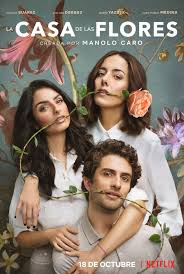 Colombia
¿Plata o plomo, parcero? Set and filmed in Colombia, seasons 1 and 2 are based on the story of drug kingpin Pablo Escobar. He became a billionaire through the production and distribution of cocaine. The series also focuses on Escobar's interactions with drug lords: Drug Enforcement Administration (DEA) agents, and various opposition entities. Season 3 picks up after the fall of Escobar and continues to follow the DEA as they try to shut down the rise of the infamous Cali Cartel.
Argentina
El Marginal follows the story of Pastor, a former cop looking to infiltrate San Onofre. Is a notoriously violent and derelict prison, by posing as an inmate in an attempt to locate the kidnapped daughter of a corrupt judge. Once inside, he finds himself having to finesse an all-out infiltration, making his way through the ranks of the prison and its crooked social hierarchy.
Cuba
Cuatro estaciones en La Habana
Cuatro estaciones en La Habana is a detective fiction television miniseries set in Havana in the 1990s. The series, which has been running for a season, is an adaptation of four crime novels by the writer Leonardo Padura, who is also the author of the script along with his wife, the writer, and screenwriter Lucía López. Each chapter takes one of the stories from Padura's books Past Perfect, Winds of Lent, Masks and Autumn Landscape, starring the detective Mario Conde
I hope you enjoyed this list of series in Latin American Spanish to practice your Spanish. If you need more information about how to learn Spanish free, you can read our blogs and learn our free Spanish guide
How to learn Spanish verbs
Do you want to know how I learn Spanish verbs? When you're learning Spanish, Spanish verb conjugation rarely inspires enthusiasm, even in the most dedicated language learner. If you think learning how to conjugate Spanish verbs is all word lists and conjugation tables, think again! The verb conjugation is vital to speaking and understanding Spanish. In most Romance languages, including Spanish, the conjugation of a verb tells you an incredible amount of information in a single word. This can sometimes be confusing for English-speaking Spanish learners because English has so few distinct conjugations.
Examples
For example, the verb "to eat" in the past tense takes the same form for each person:
I ate — Yo como
You ate — Tú/vos comes
He/she ate — Ella/él come
We ate –Nosotros comemos
They ate — Ellos comen
In Spanish, however, each verb formed differently based on who is doing the running.
In Spanish, there are three categories of verbs. The category is determined by the last two letters of the infinitive:
-ar verbs (like hablar)
-er verbs (like comer)
-ir verbs (like vivir)
The infinitive is the base form of the verb, such as to speak, to eat, to live, etc. In Spanish, all infinitives end in -ar, -er, or -ir.
-ar verb
hablar (to speak)

Yo hablo

Tu hablas

Ella/él habla

Nosotros hablamos

Ellos hablan

-er verb
comer (to eat)

Yo como

Tu comes

Ella/él come

Nosotros comemos

Ellos comen

-ir verb
vivir (to live)

Yo vivo

tu vives

Ella/él vive

nosotros vivimos

Ellos viven
The present tense in Spanish can mean three things. The Spanish phrase "yo hablo/yo estoy hablando" can mean:
yo hablo
I speak

yo estoy hablando
I am speaking

yo hablo
I do speak
How to learn Spanish with music
Latin America has many incredible indie-rock singers, music that will double click on your heart. Nothing better than learning Spanish with art. From Wanderlust Spanish we want to show you the Latin American culture, not only that you learn Spanish grammar (to know more about it, read our free Spanish guide), but also all of our essence.
Here you have a Latin American singers to learn Spanish with music free:
Silvio Rodriguez
is a Cuban musician, and leader of the Nueva trova movement. He is considered Cuba's best folk singer and arguably one of Latin America's greatest singer-songwriters. Known for his intellectual, highly eloquent and symbolic lyrics, his songs are iconic elements of Latin American left-leaning intellectual culture. Many of his songs have become classics in Latin American music, such as "Ojalá", "Playa Girón", "Unicornio"Las 18 mejores canciones de Silvio Rodríguez ~ Lo mejor de lo grandes exitos de SILVIO RODRÍGUEZ
Gustavo Cerati
Was an Argentine singer-songwriter, composer, and producer, considered one of the most important and influential figures of Ibero-American rock. Cerati along with his band Soda Stereo was one of the most popular and influential Spanish-language rock and pop groups of the 1980s and '90sGustavo Cerati – Crimen (Official VIdeo)
Shakira
is a Colombian singer, songwriter, record producer, dancer, actress, and philanthropist. Born and raised in Barranquilla, Shakira has been referred to as the Queen of Latin Music and is noted for her versatility in music. Listen to her and learn Spanish with her music!Shakira – Hay Amores (Video Oficial)
Juanes
known professionally as Juanes, is a Colombian musician and singer-songwriter who was a member of the rock band Ekhymosis and is now a solo artist. Growing up in Colombia, Juanes' first musical exposure included cumbia, salsa, vallenato and the rural Antioquian genre known as guasca, all of which influence his music.Juanes – Para Tu Amor (Official Music Video)
Mon Laferte
Is a Chilean singer, songwriter, and actress who is currently the most listened Chilean artist on Spotify worldwide. She is also the Chilean artist with the most nominations in a single edition of the Latin Grammy AwardsMon Laferte – Tu Falta De Querer (Video Oficial)
Recommended Latin American songs:
Ojos Así – Shakira
Tengo la camisa negra – Juanes
Amárrame – Mon Laferte
Gustavo Cerati – Lisa
Silvio Rodriguez – Oleo de una mujer con sombrero
How to learn Spanish Subjunctive
How to learn the Spanish Subjunctive? When you first encounter the Spanish subjunctive, it can feel like its only purpose is to make Spanish harder. What's the difference between comemos and comamos? Don't they both mean "we eat"? Why does Spanish have two words where English has only one? It's not just learners of Spanish who struggle here. The subjunctive – sometimes called the "conjunctive" – is found in many European languages – French, Portuguese, Italian, German, and even Welsh, to name just a few. English speakers often struggle to learn it.
What is the subjunctive mood?
The subjunctive is a mood, not a tense. It contrasts with the indicative mood, which is just a fancy word for the "normal" verb forms that are used much more often. All too frequently, the topic of the subjunctive is made far more difficult than is necessary. Let's try a slightly different approach, with the goal of making this topic less troublesome. The subjunctive is not a tense; rather, it is a mood. Tense refers to when an action takes place (past, present, future), while mood merely reflects how the speaker feels about the action. The subjunctive mood is rarely used in English, but it is widely used in Spanish.
Here are some examples of the subjunctive being used in English to practice How to learn the Spanish subjunctive
Examples of the subjunctive
The doctor recommends that he take the pills with food.
Subjunctive conjugation: he take

The law requires that you be 18 years old to vote.
Subjunctive conjugation: you be

If I were a rich man, I wouldn't have to work hard.
Subjunctive conjugation: I were

Subjunctive
I want John to go to the store.
(The clause "I want" tells us that the speaker feels that there is uncertainty as to whether John goes to the store.)
I hope that John goes to the store.
(The clause "I hope" tells us that the speaker feels that there is uncertainty as to whether John goes to the store.)
It is possible that John will go to the store.
(The clause "it is possible" tells us that the speaker feels that there is uncertainty as to whether John goes to the store.)
It's good that John goes to the store.
(The clause "it's good" alerts us that the speaker is about to express a subjective opinion.)
It's important that John goes to the store.
(The clause "it's important" alerts us that the speaker is about to express a subjective opinion.)

This is the fundamental difference between the indicative and the subjunctive.
Indicative verbs describe reality: actions, certainty, truth, the concrete.
Subjunctive verbs describe possibility: desires, doubts, wants, the ephemeral.
Now, by itself this doesn't teach you everything you need to know. Some situations don't neatly fit into either category. But grasping this "real" vs. "possible"" distinction is the key to a deep understanding of the subjunctive.
So, if you want to practice more and continue knowing how to learn the Spanish subjunctive, you can do it on this page.
See you in the next post!