Asado is a tradition in Argentina that brings friends and family together for a shared meal. It's not just a way to cook meat; it's a way of life. The culture of asado is deeply ingrained in Argentine society, and it's an essential part of social life. In this blog post, we'll show you how to make an asado, what kinds of salsas to use, the different types of meat, and the importance of sharing the experience with friends and family.
Types of Meat
The first step in making an asado is to choose the right cuts of meat. In Argentina, the most popular cuts are vacío (flank steak), asado de tira (short ribs), chorizo (sausage), and morcilla (blood sausage). Each cut has its own unique flavor and texture.
Vacío is a flavorful and tender cut that is perfect for grilling. Asado de tira is a more fatty cut that is great for slow cooking. Chorizo is a spicy sausage that adds a lot of flavor to the asado, while morcilla is a blood sausage that is a staple in Argentine cuisine.
Preparing the Grill
Once you've chosen your meat, it's time to prepare the grill. In Argentina, the traditional way to cook an asado is on a parilla, a grill that is usually made of iron. To prepare the grill, start by building a fire using wood or charcoal. Once the coals are hot, spread them out evenly on the grill.
When cooking the meat, it's important to keep an eye on the temperature. The heat should be medium to low, and you should avoid cooking the meat too quickly. The goal is to cook the meat slowly and evenly, so it retains its juices and flavors.
Sauces and Sides
In addition to the meat, it's important to have the right salsas and sides to accompany your asado. Chimichurri is a classic Argentine salsa that is made with parsley, garlic, vinegar, and oil. It's perfect for adding some tangy flavor to the meat.
Another popular sauce is salsa criolla, which is made with diced tomatoes, onions, and peppers. It's a great side dish that adds some freshness to the meal.
Other common sides include provoleta, a type of grilled cheese that is similar to provolone, and ensalada mixta, a simple salad made with lettuce, tomatoes, and onions.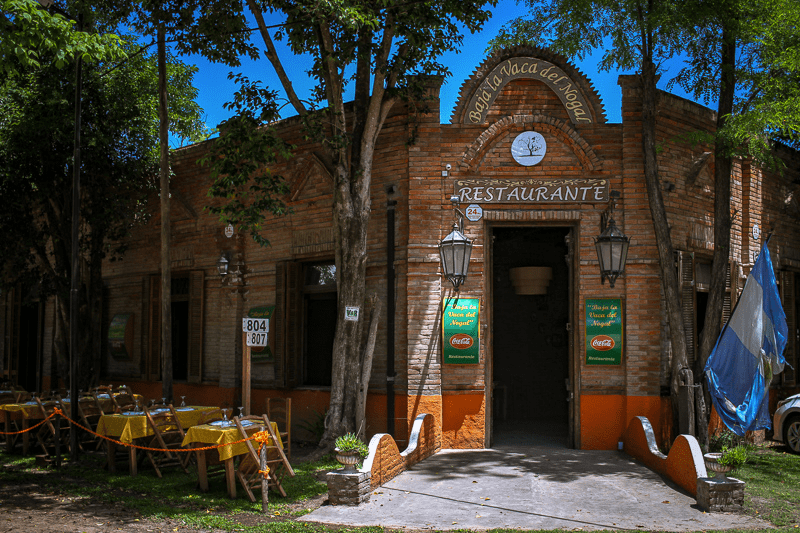 The Social Aspect of Asado Argentino
Finally, one of the most important aspects of asado is the social aspect. Asado is a social event, and it's important to enjoy it with friends and family. In Argentina, asado is often accompanied by music, drinks, and laughter.
The social aspect of asado is about more than just eating and drinking. It's about coming together to share an experience and to connect with each other. Asado is a way of life in Argentina, and it's an important part of the culture.
In conclusion, making an asado is about more than just cooking meat. It's about sharing an experience with friends and family, and connecting with each other. By following these tips, you'll be able to make an asado that is both delicious and memorable. So go ahead and fire up the grill, and enjoy the wonderful tradition of asado.
The Ultimate Guide to the Best Parrillas in Buenos Aires: Where to Find Mouthwatering Argentine BBQ
Buenos Aires is known for its love of meat and the many parrillas (steakhouses) that serve up the best cuts of beef. Whether you are a local or a visitor, trying out the best parrillas in Buenos Aires is a must-do activity. With so many options to choose from, it can be overwhelming to decide which parrilla to try. To help you out, we have compiled a list of the best parrillas in Buenos Aires that you should definitely check out.
La Brigada Located in the San Telmo neighborhood, La Brigada is a classic Argentine parrilla that has been around for over 20 years. Their speciality is the ojo de bife (ribeye steak) which is cooked to perfection and served with a side of mashed potatoes or fries. The atmosphere is traditional and cozy, with a friendly staff that makes you feel at home.
Don Julio Named one of the 50 best restaurants in Latin America, Don Julio is another classic parrilla in the Palermo neighborhood. Their menu features a variety of cuts of meat including vacío (flank steak), entraña (skirt steak), and bife de chorizo (sirloin steak). The restaurant also has an extensive wine list featuring some of the best Argentine wines.
La Carnicería Located in the trendy neighborhood of Palermo Hollywood, La Carnicería is a small parrilla that is big on flavor. The menu changes daily depending on the cuts of meat available, but their bife de chorizo is a must-try. The restaurant also offers a selection of craft beers to accompany your meal.
La Cabrera Known for its generous portions and variety of cuts of meat, La Cabrera is a popular parrilla in the Palermo neighborhood. Their menu features classic Argentine dishes like empanadas and provoleta (grilled provolone cheese) as well as a wide selection of meats including bife de chorizo, entraña, and ojo de bife.
El Obrero Located in the La Boca neighborhood, El Obrero is a parrilla that has been around for over 50 years. The restaurant is famous for its traditional atmosphere and classic Argentine dishes like milanesa (breaded beef cutlets) and matambre (stuffed flank steak). The portions are generous and the prices are reasonable, making it a great option for a casual meal with friends or family.
No visit to Buenos Aires is complete without trying out some of the best parrillas in the city. Each restaurant has its own unique atmosphere and menu, but they all share a love of meat and a commitment to serving the best cuts of beef.