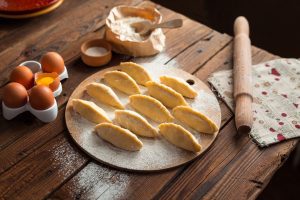 Buenos Aires and vegetarianism : is Buenos Aires an "easy" city to lead a vegetarian life? Here we tell you why it is.
Well, if we had written this blog ten years ago we would surely say: no, definitely, no. But, to tell the truth, in the last five years the gastronomic and food offer of Buenos Aires has diversified. Today, you can find vegetarian (and even vegan) options at almost every restaurant in town. There are even some grills that offer their "vegetarian grill": zucchinis, bell peppers, eggplants, onions, carrots, potatoes, and sweet potatoes, all roasted. Let's admit it: Being a vegetarian is no longer "difficult" to carry. No one can deny the delight of eating a roasted provoleta (provolone cheese) with a arugula salad and Parmesan cheese. Plus, there are some exclusively vegan grills and pizzerias!
So, here are some phrases to practice your Spanish when you go to eat at a restaurant or order food at home.
-Hola, quiero una provoleta, por favor. (-Hello, I want a provoleta, please.)
-¿Puede traerme oliva y aceto para condimentar mi ensalada, por favor? (-Can you bring olive and aceto to flavor the salad, please?)
-Yo quiero la parrillada de vegetales, por favor. (-I want the barbecue of vegetables, please.)
-Hola, te pido una pizza vegana con hongos. (-Hello, I want to order a vegan pizza with mushrooms.) (If you want to know more about simple conversations in Spanish, contact us for the best Spanish classes
If you are more of the cooking team, Buenos Aires offers, through peasant cooperatives, organic, varied, and seasonal vegetables, at a very good price, better than the price of the vegetable stores. These "bags" of vegetables (and fruit) are delivered weekly or biweekly and the money goes directly to small producers (unlike supermarkets, where there are so many intermediaries, the products are more expensive and the producers are, in general, big producers). Part of learning Spanish, as we all know, is also learning about the culture of the city where you are. Buenos Aires is the richest city in the country, but not its people and its food suppliers. So, we invite you to approach the fruit and vegetable cooperatives and talk to their organizers to find out more about this system. By the way, you can practice your Spanish learned on Wanderlust 🙂
There are also multiple options of vegan and vegetarian food made by specialized chefs, who deliver these dishes to your home. The peculiarity of these options is that their dishes are "signature", that is, they have their personal touch and make them unique and incomparable with the soy milanesa that you can buy at the supermarket. These chefs also offer courses and workshops to learn how to prepare specific types of cuisine: vegan desserts, vegan burgers, pizza doughs, cakes, pies with different types of flour, with or without gluten. The famous "milanesas" (a typical Argentine meal that contains meat) can be made with pumpkin, beans, eggplants, cheese (if you are not vegan). So how about you speak Spanish on a "how to make vegetarian pizza / milanesas" course? A complement to your Spanish classes on Wanderlust. We believe that it is important to learn how to speak Spanish, but what if you also learn how to cook vegetarian Milanese, speaking Spanish?
Every day, there are more offers in Buenos Aires to eat healthily. The world is changing and our customs too. Although we have a strongly carnivorous culture, we understand that the slaughter of animals, and especially the industrial meat market, is not only a machine for torturing animals, but also a detriment to the planet and to our environment. We also know that non-organic vegetables require large fields deforested and fumigated with products that produce cancer and reach rural populations (who are also the poorest) in our country. Studying Spanish in Buenos Aires is also knowing more about the composition of its economy and society.
Change is difficult and takes time, it is not overnight, but it is possible. Stages like the one we are experiencing now, demonstrate the importance of environmental awareness and consumption, from whom do we buy what we consume? Do we really want to consume products that have produced so much pain, and that also destroy our territory and the people who inhabit it?
In Buenos Aires, unlike other countries, there are no large "healthy" supermarkets. This allows eating healthy food to also be a time to think about where you want your money to go. Small producers, cooks who work at home, small vegan and vegetarian restaurants.