Argentina is a vibrant and diverse country, home to a rich cultural heritage, stunning natural landscapes, and delicious cuisine. Whether you're planning a trip to the bustling capital of Buenos Aires, the rugged beauty of Patagonia, or the breathtaking Iguazu Falls, there are a few things you should know before you go. Here's a guide to Argentina's culture, customs, and cuisine to help you make the most of your visit.
Culture in Argentina:
Argentina's culture is a blend of European, Indigenous, and African influences, and its people are known for their passion, creativity, and love of art, music, and literature. Tango, the sultry dance that originated in Buenos Aires, is a cultural icon, and you can catch a show or take a lesson at one of the city's many milongas. Art lovers should visit the MALBA museum, which showcases modern and contemporary art from Latin America, while history buffs will appreciate the Museum of the Cabildo and the National Historical Museum.
Here are five aspects of Argentine culture:
Tango: Tango is a traditional Argentine dance that originated in Buenos Aires in the late 19th century. It is known for its passionate and sensual movements and has become a symbol of Argentine culture.
Asado: Asado is the Argentine version of a barbecue, and it is a popular social activity. It involves grilling various types of meat over an open flame, and it is often accompanied by wine, bread, and salad.
Mate: Mate is a traditional Argentine drink that is made by steeping dried yerba mate leaves in hot water. It is a social drink that is often shared among friends and family.
Soccer: Soccer, or "futbol" in Spanish, is a passion in Argentina. The country has a strong soccer culture and has produced many famous players, including Lionel Messi and Diego Maradona.
Literature: Argentina has a rich literary history and has produced many famous writers, such as Jorge Luis Borges and Julio Cortázar. The country has a strong tradition of storytelling and poetry, and literature is highly valued in Argentine culture.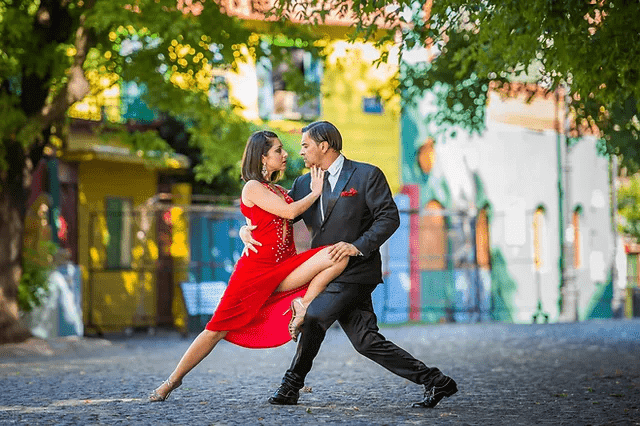 Customs in Argentina:
Argentines are known for their warmth and hospitality, and it's customary to greet people with a kiss on the cheek, even if you've just met. Don't be surprised if you're invited to someone's home for dinner or to share mate, a traditional herbal drink that's a social ritual. Football (soccer) is a national obsession, and attending a match is a must-do for sports fans, but be aware of the intense rivalry between teams and the passion of the fans.
Street Art: Buenos Aires is known for its vibrant street art scene, and taking a street art tour is a great way to explore the city's colorful and creative side. The city is filled with murals, graffiti, and other artistic expressions, and the street art scene is a reflection of the city's rebellious and creative spirit.
Cuisine in Argentina:
Argentina's cuisine is famous for its beef, wine, and empanadas, but there's much more to explore. Asado, or grilled meat, is a staple of Argentine cuisine, and you can find it everywhere from fancy restaurants to humble parrillas (steakhouses). If you're feeling adventurous, try a choripán, a sausage sandwich that's a popular street food. Dulce de leche, a creamy caramel-like spread, is a beloved dessert and can be found in everything from ice cream to pastries.
In conclusion, Argentina is a fascinating and dynamic country that's full of surprises. Whether you're exploring the cosmopolitan cities or the rugged wilderness, there's always something new to discover. By familiarizing yourself with the culture, customs, and cuisine of Argentina, you'll be able to make the most of your trip and have an unforgettable experience. So pack your bags, brush up on your Spanish, and get ready for an adventure in one of the most exciting destinations in South America!