La historia del tango (the history of Tango).
Wanderlust Spanish wants to show you all the culture around tango, since it is one of our main attractions in the country and especially in Buenos Aires. That is why we want to tell you more about the history of our typical dance: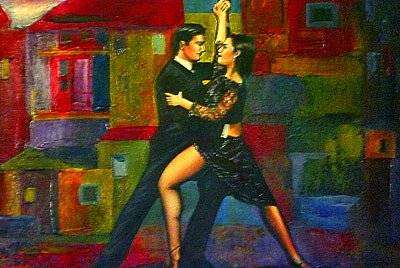 Tango is a popular Romantic dance, partner dance, and social dance that originated in the 1880s along the Río de la Plata, the natural border between Argentina and Uruguay. It was born in the impoverished port areas of these countries, where natives mixed with slave and European immigrant populations. Tango is a dance that has influences from African, Native American and European culture. Dances from the candombe ceremonies of former slave peoples helped shape the modern day tango. There are two types of tango dance practiced today -original Argentinian tango, and Spanish Andalusian Tango (danced by single women) that reached Central America during conization period. Original tango was given birth by the mix of styles that were brewing in the port cities and lower-class districts of Buenos Aires and Montevideo. The early versions of the dance are not recorded in history, and only the most popular type of dance managed to survive as Traditional Argentine Tango, which also continued to morph and change into other styles over the many years of modern tango's history.
Origin and Characteristics of Tango
By mid-1800s, tango becomes a dance of choice during "conventillos " gatherings (large houses owned by several families, which featured dance halls or open ground suitable for dance gatherings) in the booming city of Buenos Aires. Fueled by closed codes of those houses, particular language used during a gathering, the dance became more and more popular, eventually starting to be danced by actors on the stages of the theater houses.
No matter what the style, tango always appeals to the senses and creates a link between the dancers. Lost in the harmonic movement and soft touch, tango dancers from all over the world have fallen in love on the dance floor of their partners, and the dance itself, and have tangled their way into a world of passion that must be experienced to understand it.
If you want to know more about the history of tango and want to know more about Argentinian culture, contact Wanderlust Spanish