The alphabet in spanish contains 27 letters in total, it includes the letter "ñ" that doesn't exist in english.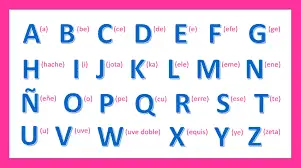 As you can see in the image, each letter has it's own name, and that's why the spanish alphabet is also known as "abecedario", because of the name of the three first letters.
Pronunciation of each letter in the spanish alphabet
Each letter has it's own sound and in spanish you can learn to read just by spelling the sounds of the letters that the word contains. Here you have a video that will help you to understand this matter.
Tricky combinations in the spnish alphabet
Most of the time, in spanish you pronounce each letter the same way everytime, but there are some specific combinations where the pronunciation changes. Let's have a look at the most common examples.
"G" Before a Vowel
The g is pronounced like a raspy English h when it comes before i or e.
Before other vowels (a, o, u), the pronunciation is like the g in English good.
gol(goal)
guapo(handsome)
gato(cat)
"C" Before "H"
When the letter C comes before the letter H, you have to say it like the ch in English cheese.
Double "L"
When two letters L appear together, you can pronounce it like the y in English yellow, the j in English judge, or the sh in English show, depending on what country you're in.
llamar(to call)
valle(valley)
Double "R"
When two R appear together, they are trilled (the sound you make when you roll your tongue). It also happens when the word starts with an R. This sound is usually the hardest one to make if you are from an english speaking country.
carro(car)
burro(donkey)
rojo(red)
If you learn how each letter sounds in spanish, you will be able to read and speak more fluently! Also you can check this other post from your favourite spanish school where you can learn how to say hello in spanish.