Museo ESMA: a great thing to do in Buenos Aires in April
What is?:
Former clandestine detention, torture and extermination center. Today it is a museum, in which you can see what the clandestine center was during the dictatorship of the year 76.
Why go?:
It's kind of a sad place, of course, but it is an interesting place to know a part of our history.
Don´t miss:
You can visit the museum from Thursday to Sunday, from 10 a.m. to 17 p.m. The entrance is free and they offer guided tours.
El Ateneo Grand Splendid
What it is?:
Is the most famous library in Buenos Aires, and one of the most beautiful around the world.
Why go?:
It is wonderful for its history, and beautiful for its architecture. It started as a cinema and a theater, then a radio, and finally today it is a bookstore/library with a cafeteria inside.
Don´t miss:
Watch the splendid dome. Drink a coffee and read a book in the coffee shop. If you are a fan of reading, there is no more peaceful plan than this.
Museo Nacional de Bellas Artes
What is it?:
It is an Argentine art museum in Buenos Aires, located in the Recoleta section of the city.
Why go?:
Because the entrance is free and is very famous in our city. Has exceptional hosts of works by Goya, Rembrandt, Van Gogh, Rodin, Manet and Chagall among other artists.
La Bomba del Tiempo: an amazing thing to do in Buenos Aires in April 2023
What is?:
It is a percussion group that practices improvisation from a system of more than 70 signs, with which a director leads the musicians in the scene. The group composition in real time is feedback with the energy of the public, making each show unique.
When "La Bomba" explodes, a true ritual of rhythm and dance takes over everyone.
Why go?:
It is a really nice plan to make with friends, family, or whoever you want. Guaranteed fun for whoever goes.
It takes place every Monday at 8 p.m. Tickets range from $1,500 (if you buy it online in advance) to $2,400 (if you buy it at the door).
Don´t miss:
In this link you can buy your ticket 👉 https://entradas.cckonex.org/event/la-bomba-de-tiempo-abril
Museo del Bicentenario
What is?:
National-history museum with artifacts, artwork & a restored mural in a former customs house & fort.
Why go?:
It's an interesting way to know part of our history. You can see photographs, paintings and audiovisual material that recreate in a timeline the different historical periods of the country.
Don´t miss:
Don't forget to see the great mural Ejercicio Plástico by the Mexican artist David Alfaro Siqueiros.
You can also go through the museum's coffee shop and the souvenir shop to buy some memories of this incredible museum.
Tour guiado en La Casa Rosada
What is?:
Casa Rosada, also known as Casa de Gobierno, is the official office of the President of Argentina.
Why go?:
It is located in the historic center of the federal capital of Buenos Aires, a few blocks away from the famous Plaza de Mayo, and is considered one of the most emblematic buildings in Buenos Aires.
Don´t miss:
Free guided tours on Saturday´s, Sunday´s and festival days from 10 a.m. to 5:30 p.m (visits every 15 minutes) . You have to be there 15 minutes early and take your ID or Passport with you to validate your identity.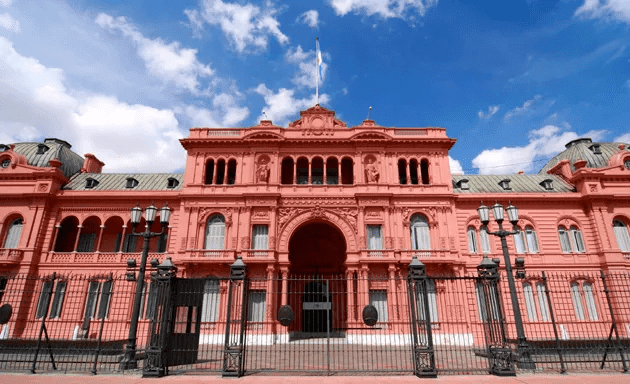 Visita al Cementerio de Recoleta
What is?:
Recoleta Cemetery is a cemetery located in the Recoleta neighborhood of Buenos Aires, Argentina.
Why go?:
It contains the graves of notable people, including Eva Perón, presidents of Argentina, Nobel Prize winners, the founder of the Argentine Navy, and military commanders such as Julio Argentino Roca.
Don't miss:
The entrance to this cemetery is completely free, so don't miss out on one of the most touristic things to see here in Buenos Aires, and one of our most famous cemeteries.
Centro Cultural Recoleta
What is?:
The Recoleta Cultural Centre is an exhibition and cultural events centre located in the barrio of Recoleta, Buenos Aires, Argentina.
Why go?:
It is a super interactive center. It holds sculptures and exhibitions, as well as concerts and artistic presentations and workshops of diverse types.
Don´t miss:
This center is next to Recoleta Cemetery and the entrance is also free 😉