If you are a Biology lover or just a Mexico lover, I guess you are familiar with this little friend. The axolotl is a type of amphibian that lives in central Mexico for about 10.000 years ago, according to the experts. Let's start with the etymology of this beautiful fellow. Mexico has more than 50 native languages and Nahuatl is one of them. Axolotl means, in Nahuatl language, Monster of Water or Aquatic Monster. 'Atl' means 'Agua (water)' and 'Xolotl' means 'Monstruo (monster)'.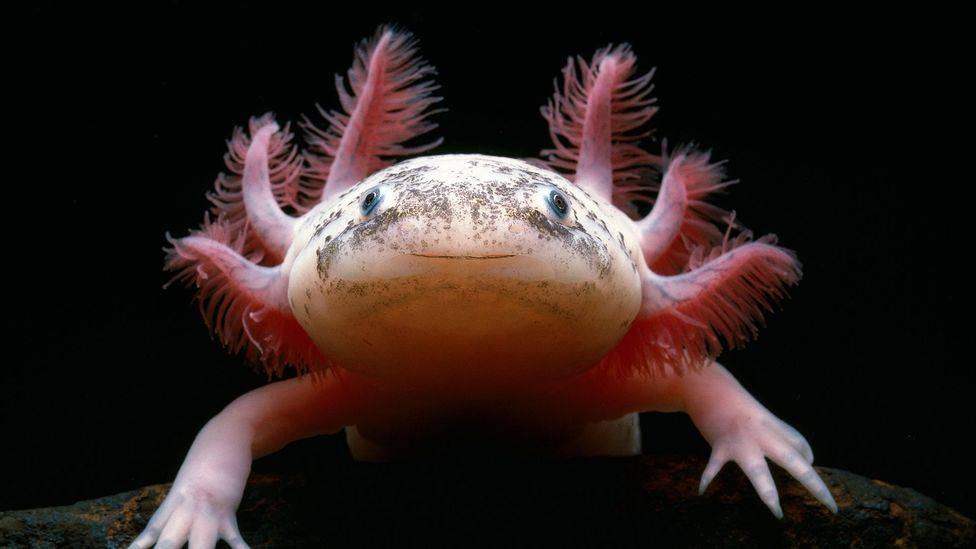 This incredible creature is capable of regenerating itself. Despite that, the axolotl is now an endangered species. That's why we should take care of it and avoid the consumption for eating and the preservation in their natural habitat. Now let's see why the axolotl is so popular, beside of this super power that it has.
What is an axolotl in Aztec Legends?
It turns that the axolotl is part of a great Aztec legend. According to the Aztec legends, the Gods used to be sacrificed to create humanity and celestial bodies. So, one day, when it came time for Xolotl, he refused to do it and run away. At first he hid between the cornfields, but he was discovered by the other Gods and he escaped again. He hid between the agave then and they caught one more time. Finally, he escaped to Tenochtitlan lakes, where he became an axolotl.
The legend is longer and has a lot of details, but let's say that because of this legend we can get to know the axolotl a little bit better. They currently live in the water canals in Xochimilco, in Mexico City. That's its natural habitat and they shouldn't be in another place. Because of its power of regeneration, is a very important species for medicine. Can you imagine that we humans could have the power of growing some part of our body that we have lost?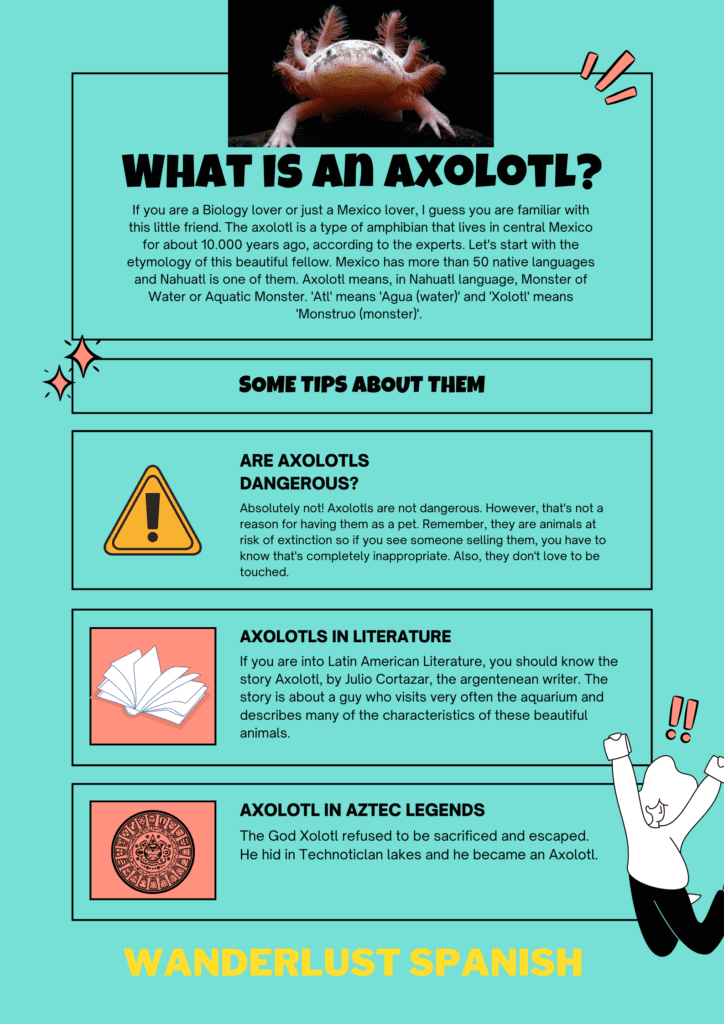 Are axolotls dangerous?
Absolutely not! Axoltls are not dangerous. However, that's not a reason for having them as a pet. Remember, they are animals at risk of extinction so if you see someone selling them, you have to know that's completely inappropiate. Also, they don't love to be touched. So if you have the opportunity to be close to one of them, just don't touch it.
Axolotls in Latin American Literature
If you are into Latin American Literature, you should know the story Axolotl, by Julio Cortazar, the Argentenean writer. The story is about a guy who visits very often the aquarium and describes many of the characteristics of these beautiful animals. It belongs to the fantastic genre in literature, so I won't tell you more about the rest of the history, because it would be a spoiler!
Now that you know a little bit more about axolotls, you can come and visit them in Mexico City. For that, we recommend you to take a Spanish Course with us before your trip! Contact us and try a free lesson first! Follow us for more information about Latin American Culture and Spanish Language.