¡Bienvenidos a Buenos Aires! Are you ready to embark on an extraordinary journey of language and culture? Learning Spanish is an adventure that opens doors to new opportunities, friendships, and a deeper understanding of the world. And when it comes to mastering Spanish, there's no better place than the vibrant and enchanting capital of Argentina. In this article, we will delve into the five compelling reasons why Buenos Aires is the ultimate city to learn Spanish, igniting your passion for the language and setting you on the path to fluency.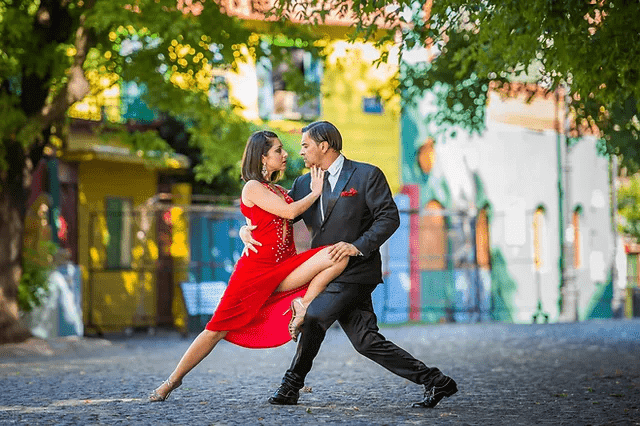 Immersive Language Experience:
Learning a language is not just about textbooks and grammar rules; it's about immersing yourself in the language and culture. Buenos Aires provides the perfect environment for such immersion. As you stroll through its streets, you'll be greeted by warm and friendly porteños, eager to share their language and traditions. Immerse yourself in the lively conversations at local cafés, tango clubs, or during the famous mate gatherings in the parks. Every encounter becomes an opportunity to practice your Spanish and learn new expressions and idioms that make the language come alive.
Testimonial 1: Julia, a language enthusiast from Canada, shares her experience, "Studying Spanish in Buenos Aires was an incredible journey. The city's vibrant atmosphere and the locals' willingness to engage in conversations helped me gain confidence in speaking Spanish. From casual chats with taxi drivers to deep conversations with newfound friends, Buenos Aires provided the perfect backdrop for my language immersion."
Cultural Richness:
Learning a language is intertwined with exploring its culture. Buenos Aires, with its rich cultural heritage, offers a wealth of experiences that deepen your understanding of Spanish. Dive into the world of tango, Argentina's iconic dance, by taking dance classes and attending milongas (tango social gatherings). Visit the historical neighborhoods of San Telmo and La Boca, where art, music, and gastronomy fuse together in a vibrant blend. From attending theater performances to indulging in the local cuisine, Buenos Aires surrounds you with cultural gems that enhance your language learning journey.
Testimonial 2: Carlos, an adventurous traveler from Spain, recounts, "Learning Spanish in Buenos Aires was a revelation. The city's cultural offerings enriched my language learning experience like never before. I found myself attending poetry readings, exploring art exhibits, and attending soccer matches. By immersing myself in the Argentine way of life, I gained a deeper appreciation for the language and its nuances."
Language Schools of Excellence:
To truly unlock your Spanish potential, you need the guidance of experienced and passionate teachers. Buenos Aires is home to exceptional language schools, with Wanderlust Spanish leading the way. With its immersive programs and skilled instructors, Wanderlust Spanish creates a supportive environment that nurtures your language learning journey.
At Wanderlust Spanish, small class sizes ensure personalized attention, allowing you to actively engage in discussions and receive individualized feedback. The school's dynamic approach encourages interactive learning through role-playing, cultural activities, and real-life language practice. From the basics to advanced language skills, Wanderlust Spanish tailors its courses to cater to your specific needs, ensuring rapid progress in your Spanish proficiency.
Language Exchange Opportunities:
One of the most effective ways to sharpen your language skills is through language exchanges with native speakers. Buenos Aires is a hub for language enthusiasts, both local and international, providing ample opportunities to engage in language exchange events. Wanderlust Spanish organizes regular language exchange meet-ups, where you can practice your Spanish with locals eager to learn your language in return. These events foster a friendly and supportive environment, allowing you to make new friends while improving your fluency.
Adventure and Exploration:
Learning Spanish in Buenos Aires goes beyond the classroom. The city's vibrant energy and its strategic location as the gateway to South America open the doors to unforgettable adventures. From exploring the breathtaking landscapes of Patagonia to indulging in the vibrant nightlife of Buenos Aires, every experience becomes an opportunity to practice your Spanish skills. Whether you're sipping mate with locals, navigating the colorful markets, or embarking on a road trip through the Argentine countryside, the possibilities for language immersion and cultural exploration are endless.
Buenos Aires stands as an irresistible magnet for language learners seeking a transformative Spanish experience. With its immersive environment, rich cultural heritage, exceptional language schools like Wanderlust Spanish, and opportunities for adventure and exploration, this captivating city offers an unparalleled journey towards Spanish fluency. Immerse yourself in the vibrant tapestry of Buenos Aires, connect with its passionate locals, and embark on a linguistic adventure that will enrich your life in ways you never imagined. ¡Hasta pronto en Buenos Aires! (See you soon in Buenos Aires!)