Luckily, there are many ways to learn Spanish, but how to learn Spanish by myself? Okay, the first answer is: study Spanish every day. Learning Spanish is not like learning to ride a bicycle, it is a process that lasts a lifetime. So, from Wanderlust Spanish we want to show you various ways to learn Spanish in a fun, dynamic, and effective way.
How to learn Spanish with YouTube
Well, we know that there are many channels on YouTube to learn Spanish. Our main recommendation is that you make an agenda of classes and levels. Every day you can watch a different video depending on your level, but in an orderly way. If your level is beginner, you can start with level A1, until you have completed all the classes of that level. Our second recommendation is that you study Spanish with our channel: Wanderlust Spanish Online.
In the channel to learn Spanish of Wanderlust Spanish, you will find Latin American expressions, grammar and information about Latin American culture. In addition, you can hire our free Spanish class to know our way of teaching
Our recommendation is that you start learning Spanish with series in which they speak clearly, do not look for a series with a lot of slang because you may get frustrated and do not want to touch a Spanish book anymore.
Latin American series to practice Spanish
La casa de las flores from Mexico (The flowers of the house)
is a Mexican black comedy-drama television series created by Manolo Caro for Netflix. It depicts a dysfunctional upper-class Mexican family that owns a prestigious floristry shop and a struggling cabaret. It contains several LGBT+ main characters, with plots that look at homophobia and transphobia.
Seen as satirizing the telenovela genre that it maintains elements of. It also subverts stereotypical presentations of race, class, sexuality, and morality in Mexico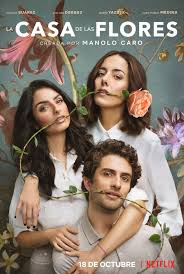 ¿Plata o plomo, parcero? Set and filmed in Colombia, seasons 1 and 2 are based on the story of drug kingpin Pablo Escobar. He became a billionaire through the production and distribution of cocaine. The series also focuses on Escobar's interactions with drug lords: Drug Enforcement Administration (DEA) agents, and various opposition entities.
Season 3 picks up after the fall of Escobar and continues to follow the DEA as they try to shut down the rise of the infamous Cali Cartel.
If you want a list of series in Spanish, contact us and we will recommend you more
How to learn Spanish online
In this case the options are multiplied. A great way to study Spanish online is with grammar guides and videos. To do it in an orderly way, you need to dedicate at least 20 minutes a day to memorize and do the necessary exercises. On the other hand, this way of learning may not be enough, you will also need a native Spanish teacher. A person who teaches you not only the language, but also the culture and motivates you to learn more than just grammar.
If you are looking for that experience, nothing better than contacting Wanderlust Spanish, your best Spanish school with native Latin American teachers.