Hello, my Spanish students! ? Today we will talk about how to learn Spanish with Netflix, especially with Latin American series and movies.
We know that not all movies and series appear on each person's Netflix. But if you do not find the recommendations that we are going to give you, you can also search for them on other platforms.
So, Wanderlust Spanish, your best Spanish school online, and your best Spanish school in Buenos Aires will recommend everything about Latin American culture and about Spanish grammar. Let's take a look!
Latin American series to practice Spanish
La casa de las flores from Mexico (The flowers of the house)
is a Mexican black comedy-drama television series created by Manolo Caro for Netflix. It depicts a dysfunctional upper-class Mexican family that owns a prestigious floristry shop and a struggling cabaret. It contains several LGBT+ main characters, with plots that look at homophobia and transphobia.
Seen as satirizing the telenovela genre that it maintains elements of. It also subverts stereotypical presentations of race, class, sexuality, and morality in Mexico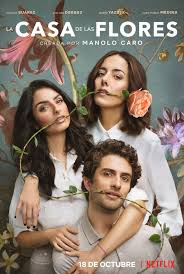 ¿Plata o plomo, parcero? Set and filmed in Colombia, seasons 1 and 2 are based on the story of drug kingpin Pablo Escobar. He became a billionaire through the production and distribution of cocaine. The series also focuses on Escobar's interactions with drug lords: Drug Enforcement Administration (DEA) agents, and various opposition entities.
Season 3 picks up after the fall of Escobar and continues to follow the DEA as they try to shut down the rise of the infamous Cali Cartel.
El marginal from Argentina
El Marginal follows the story of Pastor, a former cop looking to infiltrate San Onofre. Is a notoriously violent and derelict prison, by posing as an inmate in an attempt to locate the kidnapped daughter of a corrupt judge. Once inside, he finds himself having to finesse an all-out infiltration, making his way through the ranks of the prison and its crooked social hierarchy.
Learn Spanish Online
How to learn Spanish with music
Cuatro estaciones en La Habana from Cuba
Cuatro estaciones en La habana is a detective fiction television miniseries set in Havana in the 1990s. The series, which has been running for a season, is an adaptation of four crime novels by the writer Leonardo Padura. He is also the author of the script along with his wife, the writer, and screenwriter Lucía López. Each chapter takes one of the stories from Padura's books: Pasado perfecto, Vientos de cuaresma, Máscaras and Paisaje de otoño, starring the detective Mario Conde
I hope you enjoyed this list of series in Latin American Spanish to practice your Spanish. If you need more information about how to learn Spanish free, you can read our blogs and learn our free Spanish guide. If you want to take Spanish lessons with native speakers from every country in Latin America, contact us and start today!
And, finally, if you are planning a trip to Buenos Aires, we wait for you in Wanderlust Spanish!
Wander On! ?