Hello, there! Are you looking for The best way to learn Spanish in Buenos Aires? Well, you are in the right place! Today we are going to give you some tips to take advantage of your stay in Buenos Aires and learn Spanish while enjoying the city! Are you ready? So, let's get started!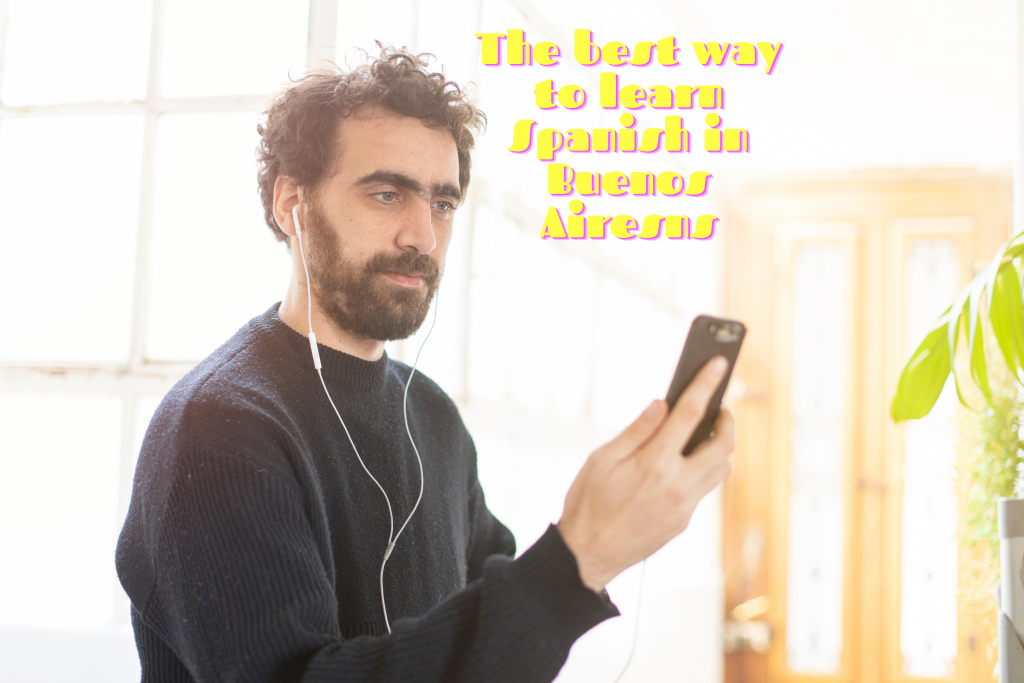 What's the best way to Learn Spanish in Buenos Aires?
Firstly, contact us and claim your free trial class in our lovely school in Palermo. But, besides attending to classes, you need to combine this activity with immersion activities, such as:
Events where you can practice your Spanish, for example, Mundo Lingo. In a bar, with a couple of beers, you can let your Spanish flow and talk with interesting people.
Watch movies in Spanish, or with Spanish subtitles. Here you have a list of the chosen ones.
Use public transportation.
Order food in Spanish.
Set all your devices in Spanish, break your comfort zone!!
Try a neighborhood different than Palermo or San Telmo, the most trendy ones, and go shop there.
Watch the news and read newspapers. Actually, read everything, the flyer with the price of empanadas, the discount on the Farmacy… everything!
Try this App for language exchange
Start practicing a sport or a class of any kind (pottery, acting classes) in Spanish
Tips to learn Spanish
Besides having classes, it's also essential for you to have in mind these tips:
Tip #1: Connect with the Spanish language before starting learning: This is fundamental! If you're planning to travel to a Spanish-speaking country, try to get to know the language before your arrival. We can recommend you movies, TV programs, and music or you can just dive into the Internet and find by yourself things you think you'll enjoy. This is very important to exercise the ear to the accent you'll listen to on your trip. And also because you need to know if you feel curious about the language. The best way to connect with a language is through its cultural representations.
Tip #2:Speak from day one: This is also very important. Don't be shy! No one is judging you! If you don't practice speaking, you'll never be able to communicate. Making mistakes is the most important part of the process of learning. If you go shopping, try at least to great in Spanish. If you are practicing by yourself, repeat out loud what you're listening to. Write down words and their pronunciations. Sing in the shower. Use Spanish words with friends, even if they're not Spanish speakers.
Tip #3: Don't underestimate the power of Grammar: At first, studying grammar can seem a bit tiresome and boring. But, don't underestimate the power of this science. Many times, resorting to the rules will help you understand, remember and put together all kinds of words (nouns, verbs, adjectives, adverbs). Every system needs an organization. Grammar is the way to organize the language. Search on the Internet tables with conjugations, read them a few times, you don't need to memorize them, you need to be familiar with them.
Tip #4: Be patient with yourself: You won't learn all at once. Celebrate the baby steps. Also, you don't need to be perfect at level A1 to pass to level A2, for instance. It's important to understand the bases of each level but don't pretend to be perfect. And if you notice there's something that is harder for you (let's say: past tenses), okay, so tell your teacher you need to review that tense. Search songs and try to recognize the past tenses. Think about what sentences you're able to translate from English to Spanish using past tenses. Sooner or later, you'll get it, and in the meantime, enjoy what you already know. Studying a language is a lifetime experience.
Tip #5: Never lose sight of the goal of your learning: Are you learning because you're traveling? Are you learning because you need it for work? Are you learning because you fell in love with someone who speaks Spanish? <3 All the reasons are valid! Having an aim for your learning is a very good way to keep motivated. And if you broke up with that person or got fired from your job, find another goal. At this point, you already know some Spanish and I'm sure you love our culture and don't want to miss the chance to speak like a local!
Last but not least, enjoy the journey! Don't get frustrated, take advantage of your staying in Buenos Aires to also visit places, fly to Patagonia, Iguazú Falls and connect with Latin American Culture! Contact us if you want more information. See you soon!